Pop Up Campers
Pop-up Camper, also refer as Pop-Ups, Fold-Downs, Tent Trailers, or Camping Trailers; is a perfect way to start out camping, they all provide an economical and easy to tow option for families starting out in camping.




Basic popups usually include the following features: fold-down dinette (table top and bench seating combination), on-board fresh water tank, sink, 12-volt DC power system (including an AC to DC converter and a deep cycle battery), interior DC lighting, two sleeping bunks and storage cabinets. Many pop-ups also include a gas/electric absorption refrigerator, stove, rooftop air conditioner, propane furnace, water heater, electric water pump, exterior shower, skylight/roof vent, one or two propane tanks, electric or surge brakes, large storage trunk at the front of the box, and an awning. Some premium models also include a shower, toilet, wastewater tanks, slide-out section (to increase interior space), microwave, and an oven.

Since space is at a premium in popup campers, it is common for a single structure to serve multiple purposes. Generally, the dinette, which can seat four people for a meal, can be converted into a bed to provide additional sleeping space. Likewise, the couch, if present, can usually be folded down into a bed. Often, the inside table (part of the dinette) and the gas stove can be taken outside and attached to the side of the camper.

Many customers are moving to a pop up camper from a tent and are looking to get off the ground, have more room and amenities, and a bed. A Pop-Up Camper is a hard-sided box ranging in length from 8 - 14 feet, and when open and set-up for camping is 16 - 26 feet. Pop-Ups have a hard roof, and tent walls.
Pop Up Campers Set Up
Before pulling your pop up camper into the campsite, check out the campsite and make sure everything is where it needs to be. This includes making sure there is water hookup at the campsite and making sure the electric outlet is on the right side or location for your hookup. Once you have surveyed the hookups and layout of your campsite pull or back your popup into it.
To open a pop-up camper, the trailer must be chocked or blocked by wood on each side of the tires to hold them in place and disconnect your towing hitch and level it. Once you are all level, unlatch the roof latches (make sure you get all the latches!) of the camper popup and use you're pop up crank or winch to raise the roof all the way up. Then we should bunks at the front and the back of the trailer are pulled out by hand. Then, the tent material (which is fastened to the box and to the roof) is unfurled, pulled over the ends of the bunks, and attached. Interior support poles for the bunk and the entry door are then installed.

Depending on the configuration and included equipment, several additional set up steps may be required. These steps include hooking up to utilities (electricity, water, sewer), reassembling the dinette, unfolding the sink, turning on systems (water pump, water heater, etc.), making beds and unpacking belongings.

Setup time for a pop-up camper is typically longer than that for a travel trailer, fifth wheel or motorhome.
---
Pop Up Camper's Pro's and Cons
Pros.
1) Pop Ups are reasonably priced and a great way to start your family camping. Used pop ups can cost as little as $1,000 to several thousands. Most people buying a used pop up will likely spend around $5,000.

2) Easy to tow and weigh far less than other types of trailers. Most SUV's and mini-vans can tow a pop up camper.

3) Low cost of ownership (with the right brand, see our buyer's guide and pop up camper brand comparison) compared to other types of RVs. This is especially true when buying a new pop up. For example, if you were to purchase a new Jayco pop up, you would have full manufacturer's warranty for the first 2 years, and a life-time parts and labor warranty on the major components such as the lifter system, floor, frame, bed ends, and roof.

Cons.
1) Set Up. This "con" depends on if you're comparing a pop up to a travel trailer or a tent. Set up is more involved than with a travel trailer, but less than a tent.

2) Sleeping comfort. The pop up camper mattress is certainly not like sleeping on a cloud, but again comparing it to a tent...it's much softer than the ground. Many people will use egg-crate foam for some additional comfort.

3) Loading and unloading camping gear. Certain brand pop up campers do not allow you to access the pop up when it is closed. That means you would need to crank up the roof to load and unload your camper.

4) If it's wet when you closed it, you have to open it back up to let the tent dry. If you don't open it, your tent will get moldy and dry rot.
2014 Jayco Jay Feather Ultra Lite
---
Pop Up Camper Brands We Buy & Sale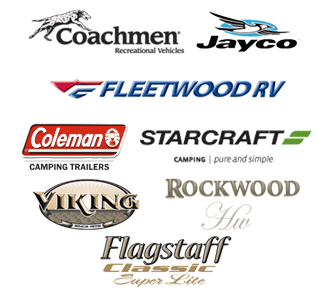 Visit
FretzRV.com
for a great deal on a new or used pop up camper!
---
2014 Jayco Jay Flight Swift
---
At my age I have purchased many vehicles and dealt with many dealerships, and no one compares with your dealership. I will always share my experience other RV'ers.
Bob & Pam
Your attention to detail is amazing. Without your help we would be very confused and very dissatisfied. So from Bill and me many, many thanks for your help in making our RVing a pleasure. All of the persons who work at Fretz are wonderfully helpful. To all our thanks extend. Please share this email with them.
Bill & Diane
---
Latest Tweets
Steve Fretz. @FretzRV
#Halloween is coming! Have you decorated your Fretz RV? http://fb.me/1ShtzorWw
http://fb.me/1ShtzorWw
---
Contact Form